Here you can download the free version of Repetier-Server. To get the Pro version with all features, you just have to enter your Repetier-Server Pro license code you can get here. Repetier-Server Monitor is always free.

 

Repetier-Server 1.4.13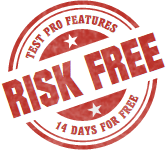 After installing Repetier-Server you can activate a completely free test period of 14 days to test out all Pro features. If you are satisfied, we are happy if you decide for a Pro version and support this project.
Which version is the right?
For the linux versions we currently only have Debian installer which work with all newer Debian like distributions like Ubuntu as long as your libc version is greater equal the used version. See table below:
Linux 32 bit Intel (intel32):

 

libc 2.19 like used in Ubuntu 14.04LTS
Linux 64 bit Intel (amd64):

 

libc 2.13 like used in Debian Wheezy
Linux 32 bit ARM (armhf):

 

libc 2.16 like used in Debian Jessie. Use armel if you have a older libc.
Linux 64 bit ARM (armhf 64 bit):

 

libc 2.23 like used in Ubuntu 16.04
Linux 32 bit ARM (armel):

 

libc 2.13 like on Raspberry-Pi Raspian
Windows: Vista, 7, 10 and 11
Mac: OS X 10.13 or later
For the arm boards we have two versions depending on the arm architecture. The widespread Raspberry-PI uses the armel version. Boards with better hardware like Beagle bon black should use the faster armhf version.
For update informations, please check out our changelog.

 

Repetier-Server Monitor 1.4.6

Free desktop app to connect multiple Repetier-Server PRO or OEM instances at once with additional functions like easy g-code upload from any slicer, Repetier-Server backup, …
Read more …
Download Older Versions
Repetier-Server Monitor 1.3.1
Repetier-Server Monitor 1.2.0
System requirements
Windows 7 and higher (64 bit), Mac OS X 10.10 and higher and Linux (64 bit)
200 MB disc storage
The current version of Repetier-Server
If under linux the screen is empty add –disable-gpu as parameter. Happens especially under virtual machines.
---
Troubleshooting:
If you have any problems with our software, here you will find help:
Notice for Raspberry Pi users
The Pi is very power sensitive. If it does not receive stable 5V, you may experience stability issues like bad connections or temperature errors. Use a solid 3A power supply, best with 5.1 V output. Also a cheap usb cable with thin wires can cause voltage loss. We recommend an AWG20 USB cable.