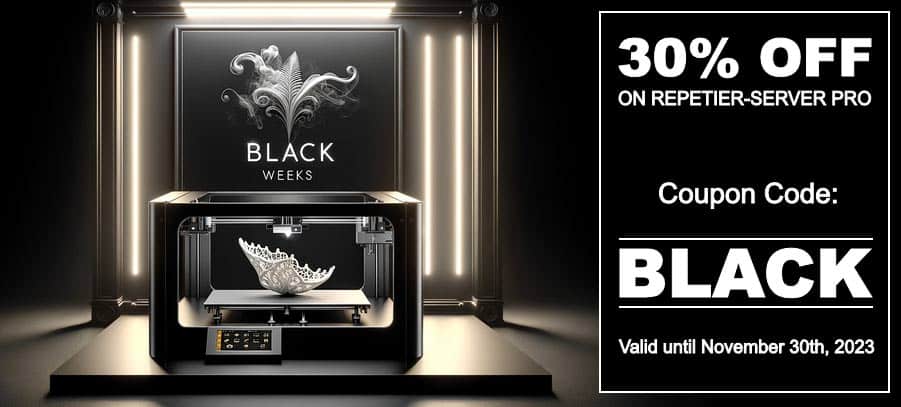 Unlock Creativity and Learning with 3D Printing in Education
Experience the captivating synergy of creativity and technology in the classroom with 3D printers. They offer a world of possibilities across various subjects, including Technology, Art, Computer Science, Mathematics, Biology, Geography, Physics, and more.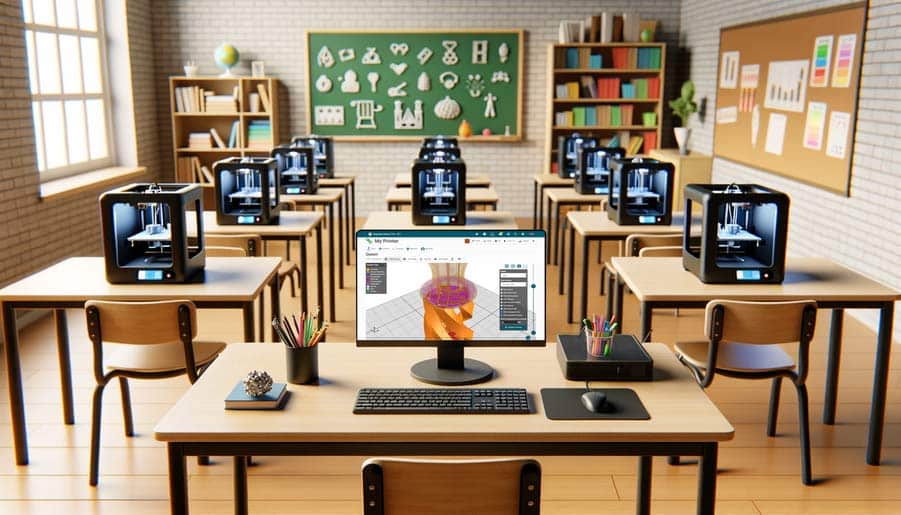 3D printing sparks student motivation through hands-on, creative exploration, enabling them to design and print their very own three-dimensional models. These tangible creations become valuable educational resources, enhancing the learning experience.
3D printers bring the future into the classroom and take learning to a new level!
Therefore, pupils, trainees and students should learn early to deal with this innovative and fascinating technology, because the field of digital media is becoming increasingly important in everyday working life. The practical and vivid learning has an enormous motivation potential and thus leads to important learning successes..
But the printers themselves are only one part of this, without 3D printing software adapted to the classroom, success quickly falls by the wayside and instead of joy and enthusiasm, frustration reigns. And that's where Repetier-Server comes in! Our software has been specially adapted to the needs of educational institutions and has been tried and tested over many years.
The advantages of Repetier-Server in the classroom:
User administration with rights management
The teacher can create a separate account for each person, group or class and decide to whom he gives which rights (print, add prints, change settings, delete files, …). This way the teacher retains full control.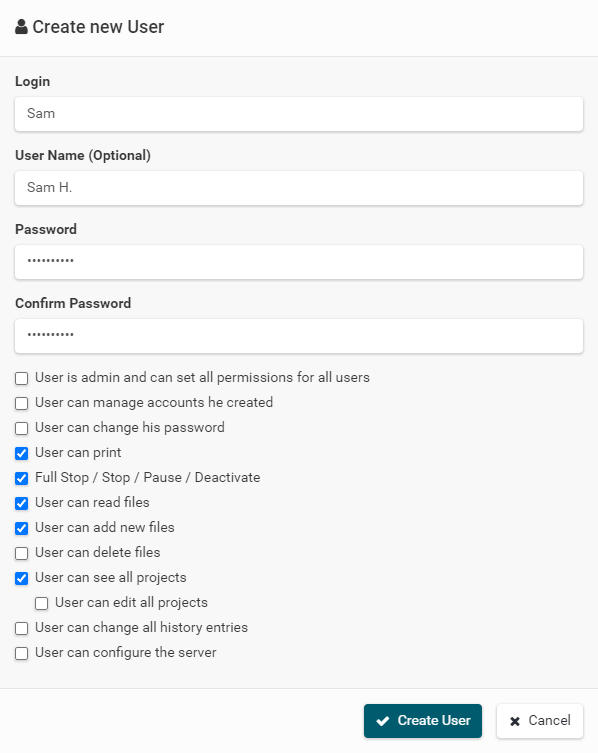 Teachers and students can log into the Repetier-Server via browser using their own end device (PC, laptop, tablet or smartphone). Depending on their own rights, they can conveniently and clearly manage, control and monitor all printers via webcam as well as upload, manage and print their own models. The whole thing works in your own home network – even without an Internet connection!
Beside the normal web interface, we have a simplified interface for touchscreens connected directly to the printer. We have fixed resolutions for typical dispays. Change your browser size to check different display sizes.
With Repetier-Server several printers can be controlled simultaneously – all in one program. The number of 3D printers you can control with one installation depends on your hardware. With a cheap Raspberry Pi you can easily control 4 printers simultaneously.
And that's not all, if you have multiple Repetier-Server Pro installations, you can combine them all together in our free Repetier-Server Monitor.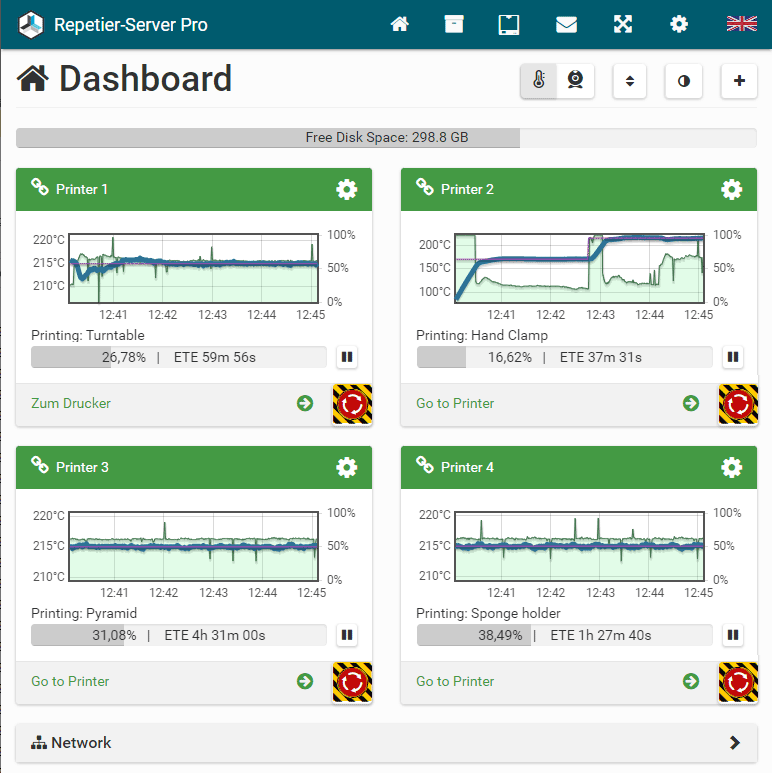 If the printer is in operation, further print jobs can be placed in the queue to be processed one after the other. In the case of belt printers, these can even be processed automatically. It is also possible to set how often a model is to be printed in the queue. The print order can be moved by drag & drop.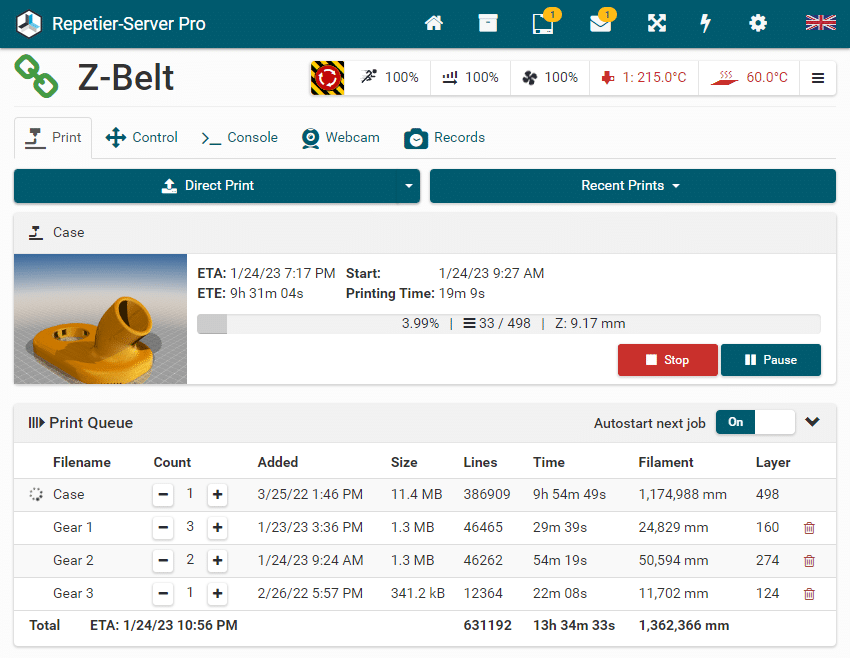 G-codes are analyzed in advance. This not only gives you the printing time, also the filament required and the printing costs. The sliced model can also be analyzed and viewed in detailed 3D views. This means that slicing errors can be detected before printing and misprints can be avoided – saving a lot of time and money!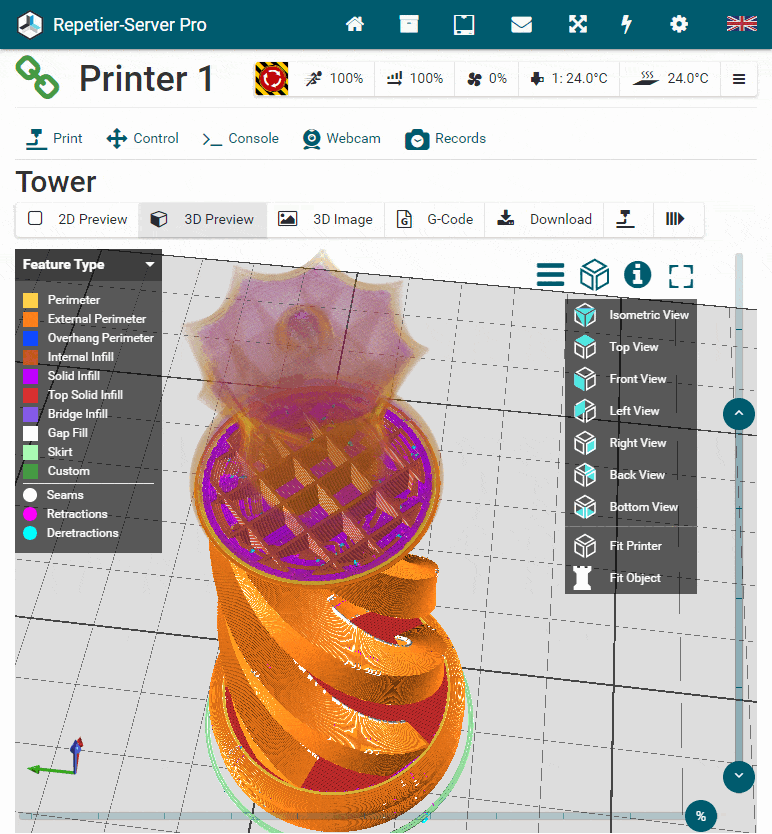 For analysis you have different color schemes, so that e.g. outer perimeter, infill, support, skirts, … are color-coded, or extruders, speeds, widths or layer heights are color-coded.
Try it out in the live demo below:
All prints are logged and for each print there is a print report. This way you can see the utilization and get a PDF report for each print.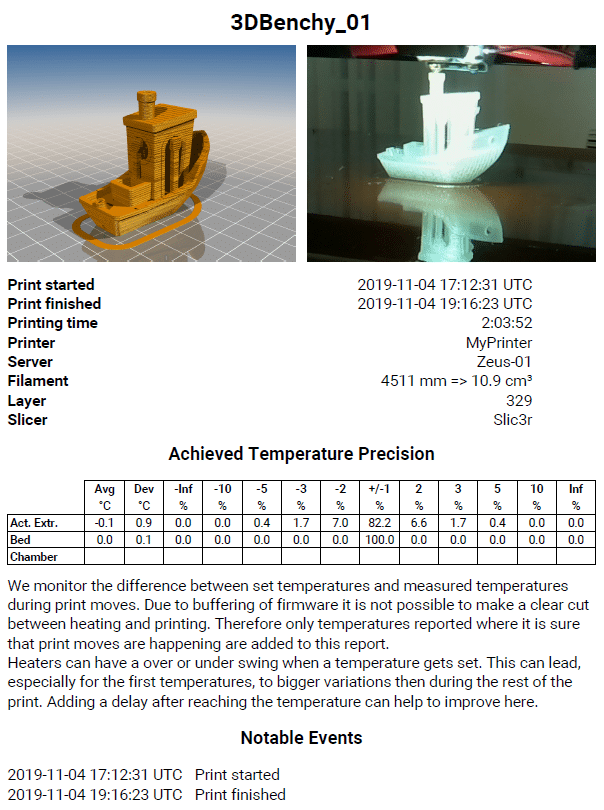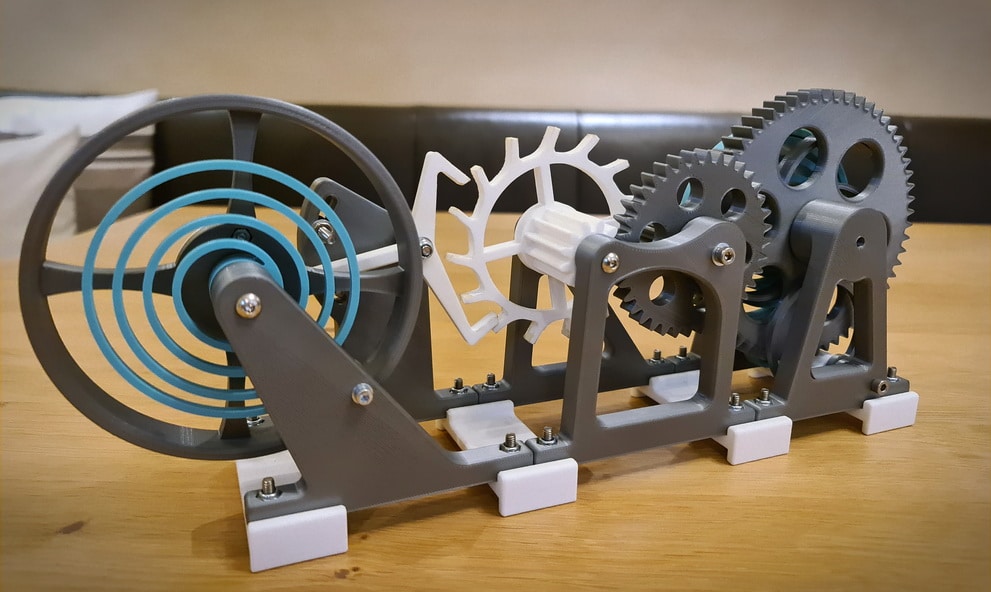 Sample models for the classroom
Drawing models yourself in 3D and bringing them to life in the printer encourages creativity. But sometimes it makes absolute sense to download already finished models. There are countless platforms for this, such as thingiverse.com, yeggi.com and cults3d.com, where sometimes very complex and elaborate 3d models are often offered for free download.
Here are some examples as a suggestion for different school subjects:
Technology
Mathematics
Biology
Sports
Music
Physics
Art
Geography
History
Chemistry
Test us now for free and without obligation and risk. The PRO version with all features can be tested free of charge for 14 days after installation. No contact or payment information is required, after the free trial period you can continue to use the installation as a regular free version!
We are convinced that Repetier-Server will also convince you and will become an indispensable part of your work in the field of 3D printing.
Let your students experience the benefits of 3D printing and prepare them for a successful future. Invest in using 3D printing in your school today!