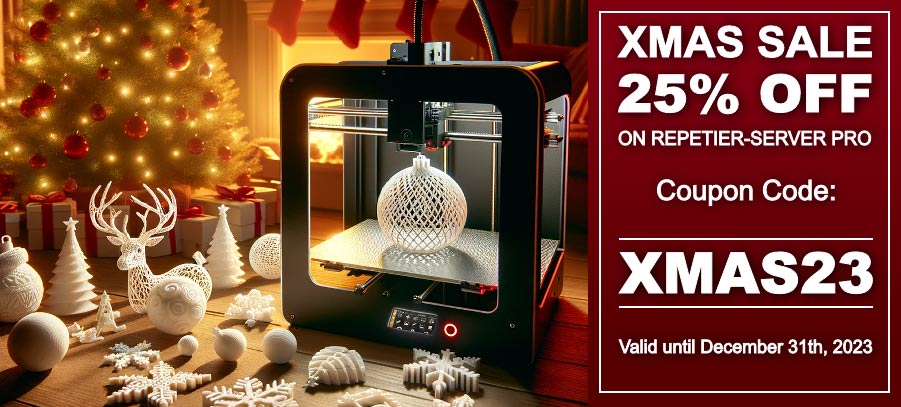 Dive into the next generation of 3D printing with Repetier-Server. Explore unprecedented possibilities and maximize the potential of all your printers.
Full Flexibility
Manage, control and monitor all your 3D printers via Repetier-Server from any PC, smartphone or tablet on your home network (intranet). Just open Repetier-Server in your browser and you are in your control center.
If you want to connect from outside your home network, you need a VPN tunnel to your network (secure solution) or add port forwarding to make the printer available from the internet. This way you have full control even when you're on the road.
Multi-Printer Support
One printer rarely stays alone. That's why we've optimized Repetier-Server to control and manage multiple printers simultaneously.
The number of 3D printers you can control with one installation depends on your hardware. With a cheap Raspberry Pi you can easily control 4 printers at the same time.
And if you have multiple identical 3D printers, they can even share a library of your g-codes.
For this reason, Repetier-Server is the standard for print farms and professional users.
And that's not all, if you have multiple Repetier-Server Pro installations, you can combine them all together in our free Repetier-Server Monitor.
3D Views
To avoid misprints, it is important to quickly check the G-code for any slicing errors before printing. We support you here with our detailed 3d views, where it is quickly apparent whether support has been forgotten at a certain area and whether everything looks as desired.
For analysis you have different color schemes, so that e.g. outer perimeter, infill, support, skirts, ... are color-coded, or extruders, speeds, widths or layer heights are marked with different colors.
In addition, there is a rendered preview image of each g-code to manage the models efficiently.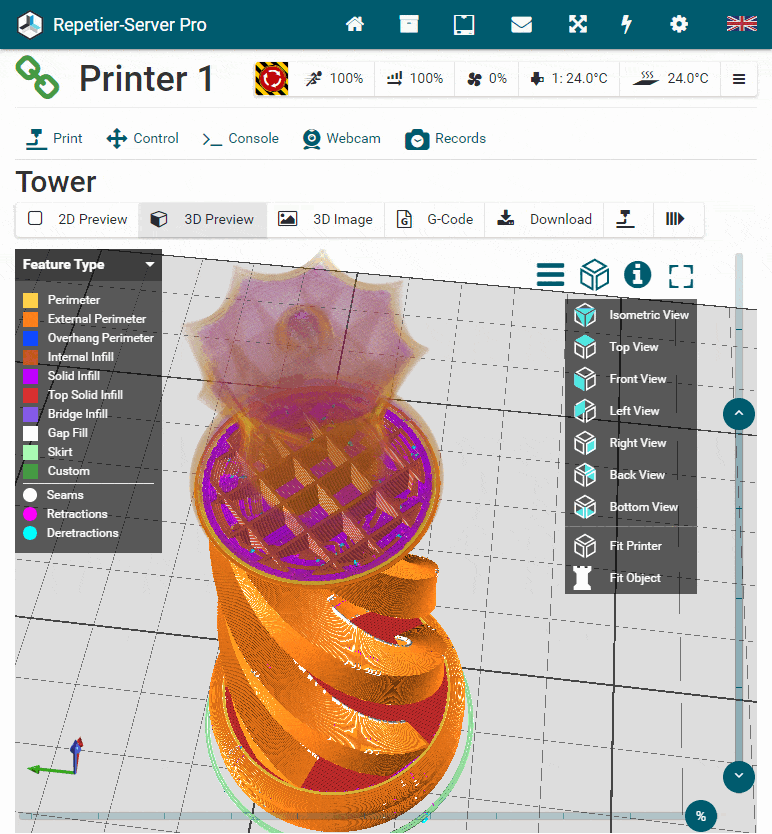 Of course, you can also analyze each layer individually in our 2d preview and edit the g-code afterwards, e.g. to change temperatures or add breaks.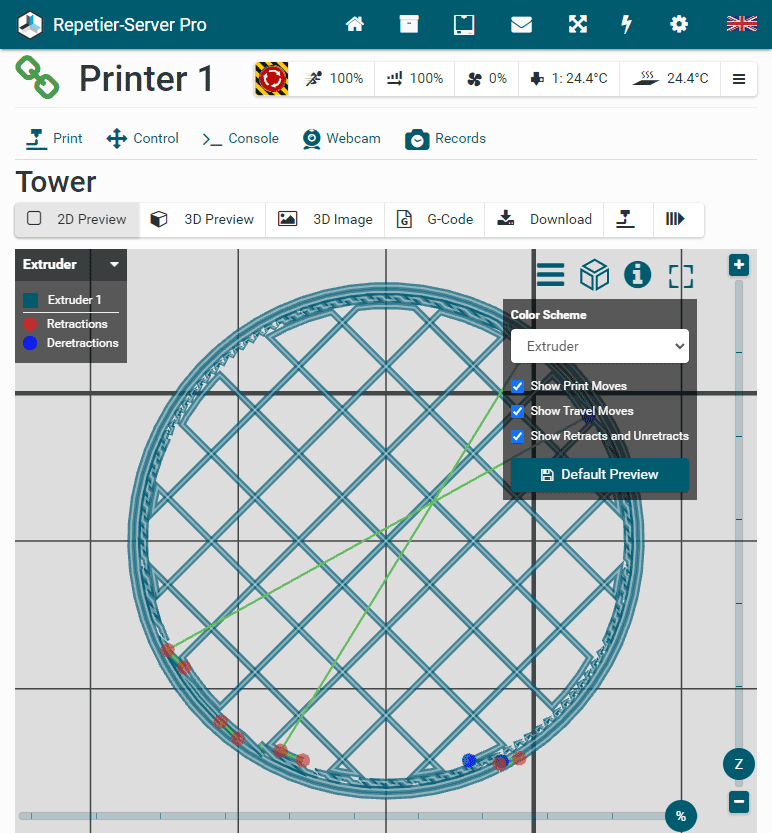 And you can also follow the print live in 3D and watch how the model is created. If you wish, you can display the not-yet-printed area transparently and rotate everything slowly.
Of course we also have a 2d view where you can see the currently printed layer. Or you can follow the live print with your webcams.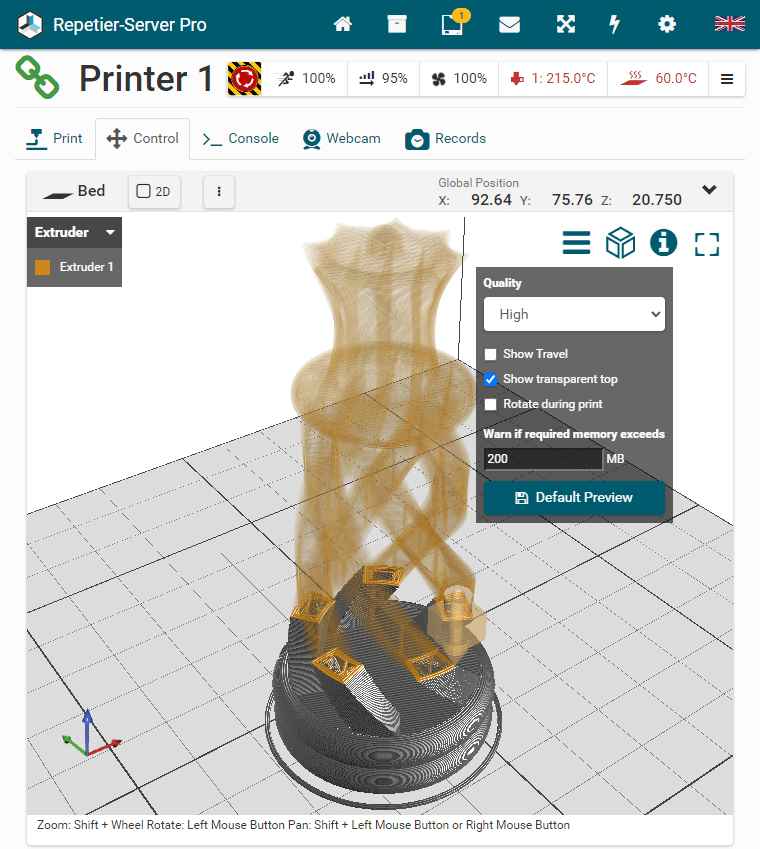 Here is a live preview rendered g-code. Click and test several color schemes and options.
G-Code Manager
All g-codes that you have uploaded for your 3d printer are clearly displayed with rendered preview images. You get all important data like print time, required filament, weight, print costs and other details. You can analyze the g-codes in high-resolution 3d views, view them layer by layer in 2d and even edit the g-code afterwards, e.g. to change other temperatures or to add pauses.
But the best way to check it out for yourself is here in our live demo:
Multi Webcam & Timelapse Videos
To ensure that you can always monitor your 3D printers optimally, you can connect multiple webcams per printer to view the print from different angles.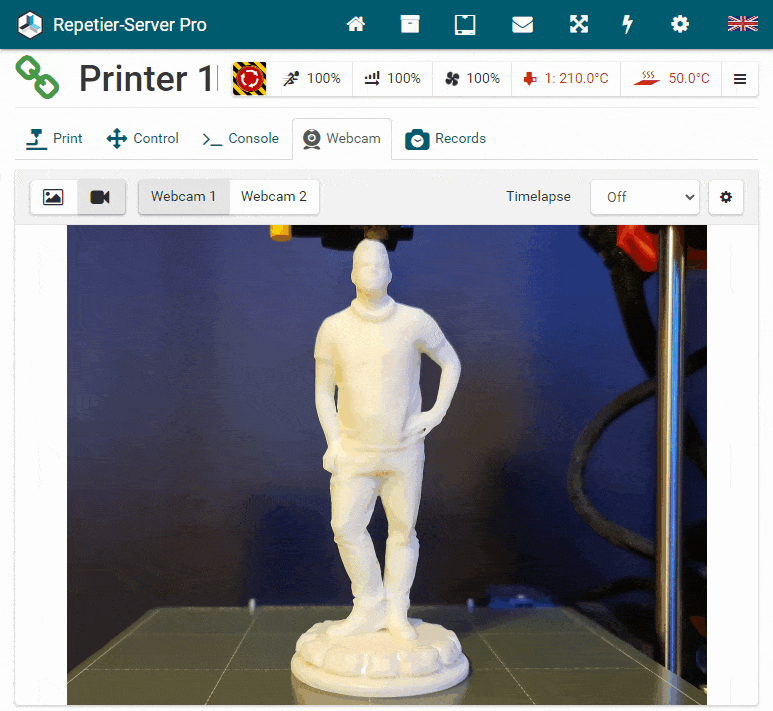 Additionally, you can create beautiful and smooth time-lapse videos of your print with freely configurable parameters for an impressive wow effect.
You can specify a fixed extruder position for the photos, so that the model is built up quite fluidly.
Cost Control
In addition to the free version of Repetier-Server, we also offer a Pro version. After all, we also have to live and our customers expect Repetier-Server to be regularly updated and expanded, to get new features and to be compatible with as many printers as possible.
However, despite the ongoing development costs, we have chosen to charge only a one-time fixed price, even though many programs now rely on monthly or annual fees.
Just calculate for yourself what is cheaper for you!
You can use the license of Repetier-Server for an unlimited time. Each Pro license includes 5 installations that can be used simultaneously, e.g. to outsource compute-intensive tasks to fast machines, and each installation can manage as many 3d printers simultaneously as your hardware can handle.
Local Cloud
Connect multiple computers with Repetier-Server Pro installations in your own network to share projects and outsource compute-intensive operations to faster PCs.
A big advantage of Repetier-Server is that it requires very few resources and can run smoothly on a Raspberry Pi and control multiple 3d printers simultaneously. But computationally intensive tasks like rendering the detailed preview images of large c-codes and STL files and creating timelapse videos need computing power. If you outsource these tasks to fast computers, you can also work with the Pi like a fast PC.
And that's not all, if you have multiple Repetier-Server Pro installations, you can combine them all together in our free Repetier-Server Monitor.
Important: All your files like 3d models, g-codes, statistics, pictures, videos, ... will always remain exclusively on your computers and will not be transferred to us, so you can use your local cloud in your home network even without internet access.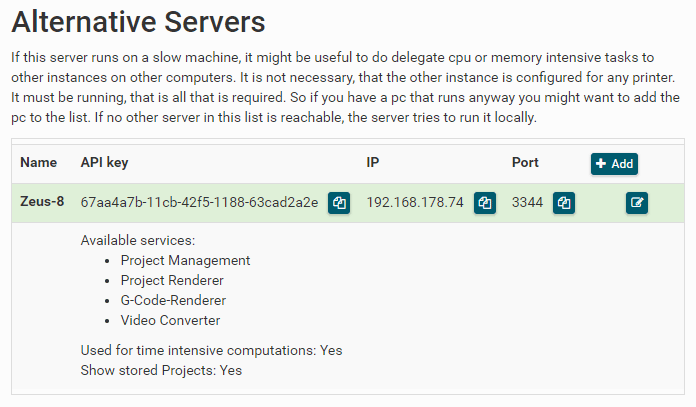 Project Management
In our project manager you manage all your 3d models (STL, OBJ and 3MF files) clearly sorted in folders and own projects with preview images.
A project includes all associated 3d models with rendered preview images. In addition, you can upload more images, videos and other files and enter a license and a description and instructions for printing.
You can view the models in the 3d view. But the best way to see it is here in our live demo:
Touchscreen
If you have a printer with a touchscreen monitor, the usability of the regular pages of Repetier-Server can be too complicated and, depending on your hardware and screen resolution, too time-consuming and memory-intensive. For this reason we have developed a customized and optimized interface for common touchscreen sizes with different resolutions.
Try it out for yourself in the following live demo:
Multilingual
Repetier-Server is distributed worldwide and is currently available in the following 16 languages:
German
English
Spanish
French
Chinese
Czech
Japanese
Italian
Korean
Dutch
Polish
Portuguese
Swedish
Turkish
Catalan
Russian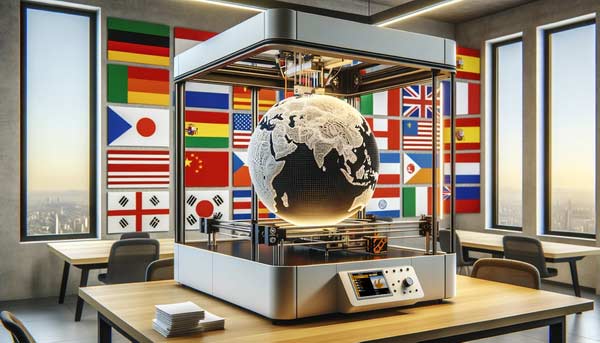 Print History
You can log all prints in a history table to keep track of your activity and get detailed PDF print reports like this one: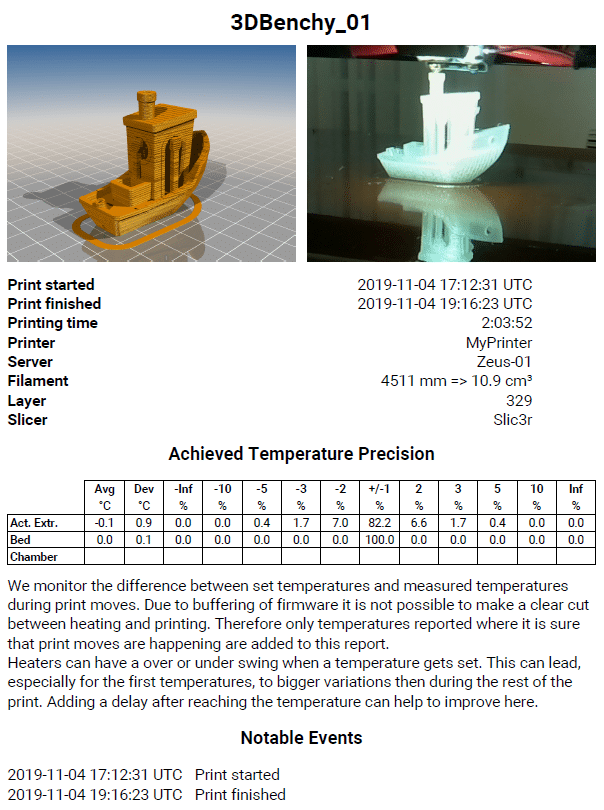 Push Messages
You don't have time to monitor your prints all the time, but you still want to be informed about events you set, such as when the print is ready, paused or an error occurred? We have a number of ways to inform you so that you receive this information by push message or via WhatsApp, Signal, Telegram or Facebook Messenger.
Use our Repetier-Informer or Pushover to get push messages on your smartphone or tablet. Alternatively, you can set up other providers. We recommend the free service from CallMeBot to receive messages via WhatsApp, Signal, Telegram or Facebook Messenger, which is easy to set up.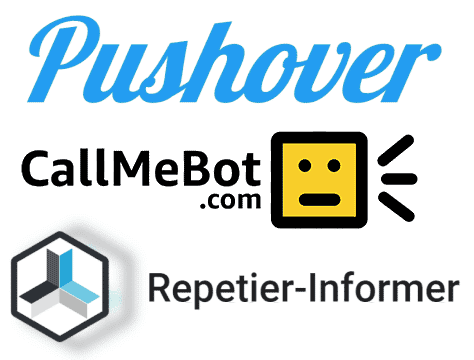 Exclude Print Areas
Who doesn't know it, you print several parts at the same time and one part comes off the plate. Previously, the whole print was ruined, but now you can easily exclude individual areas during printing and the objects there are no longer printed, while the rest continues to be printed.
This saves money and nerves and is just handy when you need it.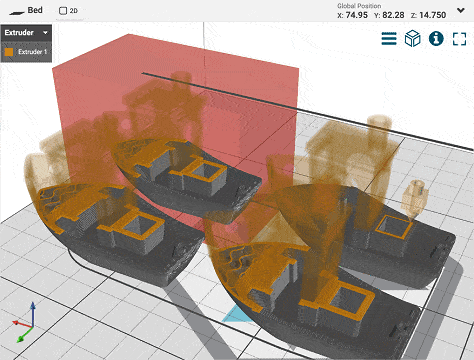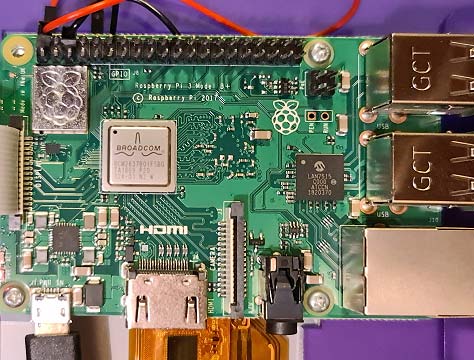 Raspberry Pi Image
Use our ready configured image for the Raspberry Pi with many extras.
Safety & Reliability
Since Repetier server is designed for professional purposes, we are especially concerned about security and reliability.
User management allows you to assign each user exactly the rights they need, which is especially necessary in companies and educational institutions.
Since we program everything ourselves, we test all functions before each update and fix any bugs as quickly as possible so that your printers run absolutely stable and reliable.
If problems occur during printing, such as voltage interruption, we have a rescue system that often allows printing to continue without loss.
But we also care about the security of your data. All your models, g-codes, pictures, videos and statistics remain on your computers alone. Because of this, you can also run Repetier-Server offline permanently.
You can backup and restore your 3D printers with all data, settings, g-codes, ... directly in Repetier-Server. And with the free Repetier-Server Monitor you can backup and restore the complete Repetier-Server as well as individual printers, settings and models.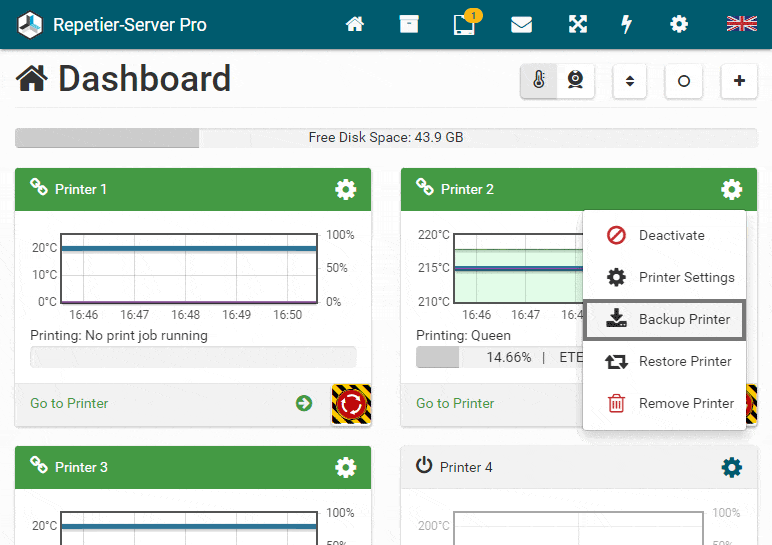 Data Security
Your data is sacred and absolutely none of our business. We also develop our software with the industry in mind and know how sensitive such data can be when developing prototypes, for example. For this reason, no models, g-codes, statistics, images, videos or similar data are transferred to us. This data remains exclusively on your own computers. You can also run Repetier-Server permanently without an internet connection.
An internet connection is only required to activate the license once and to receive automatic updates, although Repetier-Server can also be updated manually offline.
Wizards
Our unique scripting language for 3d printers allows you to easily create interactive processes with dialogs. These appear under wizards or custom commands. They are editable in the configuration and can thus also be easily adapted to your own wishes.
Wizards can also be imported and exported to obtain them from other sources such as manufacturers or forums.
And best of all, a wizard works exactly the same in the normal GUI as it does in the touchscreen or Repetier-Server Monitor.
No customization of GUI sources is necessary!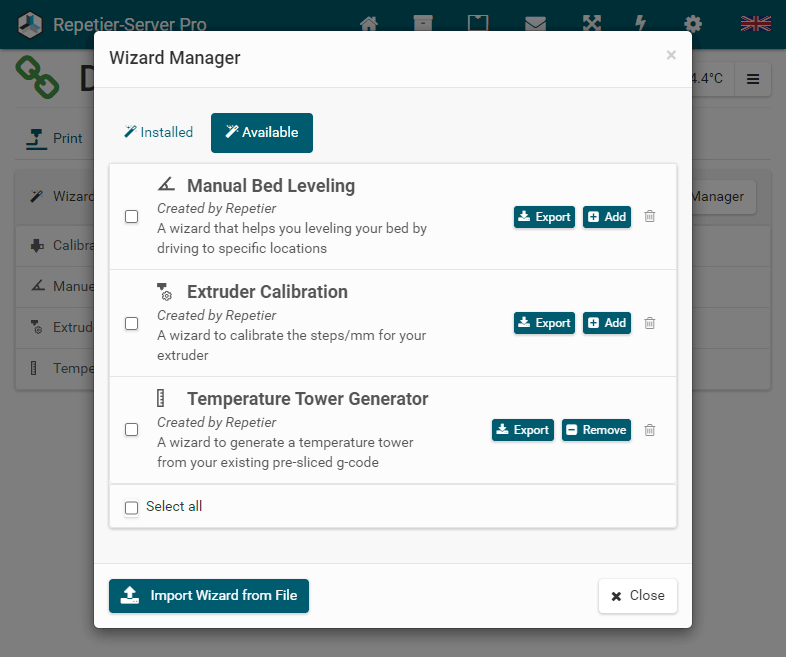 Belt 3D Printer
Z-belt 3D printers make it possible to print very long objects or to print very many identical or different objects on the fly. Also, depending on the model, they can print large overhangs without support. They are becoming increasingly popular, which is why we have specially adapted and expanded Repetier-Server to meet their special needs.
Once you have started a print, you can easily set the number of prints in the queue, add more prints to the queue and set autostart next job automatically. You can also change the order simply by drag & drop. Optimal for frequent printers and print farms.

And even though the z-belt 3d printer prints at an angle due to the design, the g-code does not appear distorted in our 3d views and rendered preview images.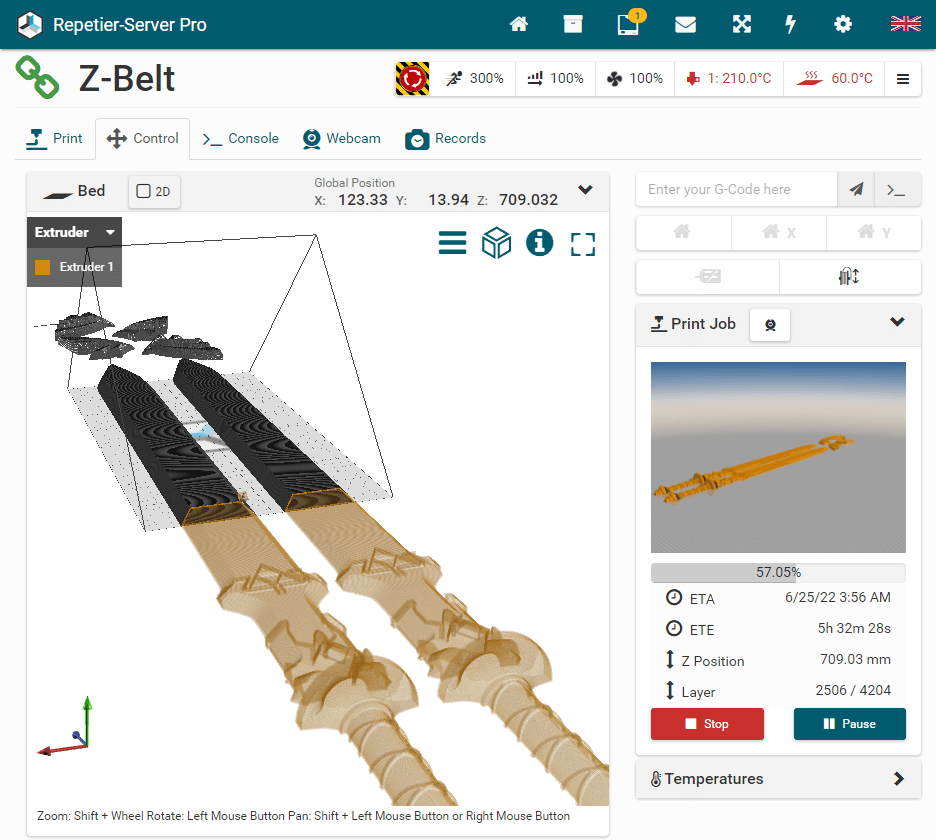 Firmwares
Our goal is to be compatible with as many 3d printers as possible. That's why we support the popular firmwares from the following vendors: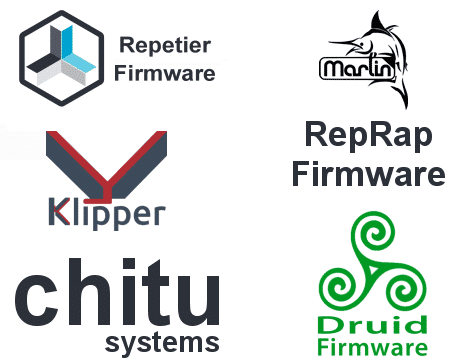 EEPROM-Editor
Many printers allow to change quite a few parameters during operation and to store them permanently. In our EEPROM editor, these are clearly displayed for modification. This way you can optimize the firmware during operation without always having to install a new firmware.
In addition, the settings can be saved to a file and restored.
Note: These settings are for advanced users who know what the firmware settings in the printer mean.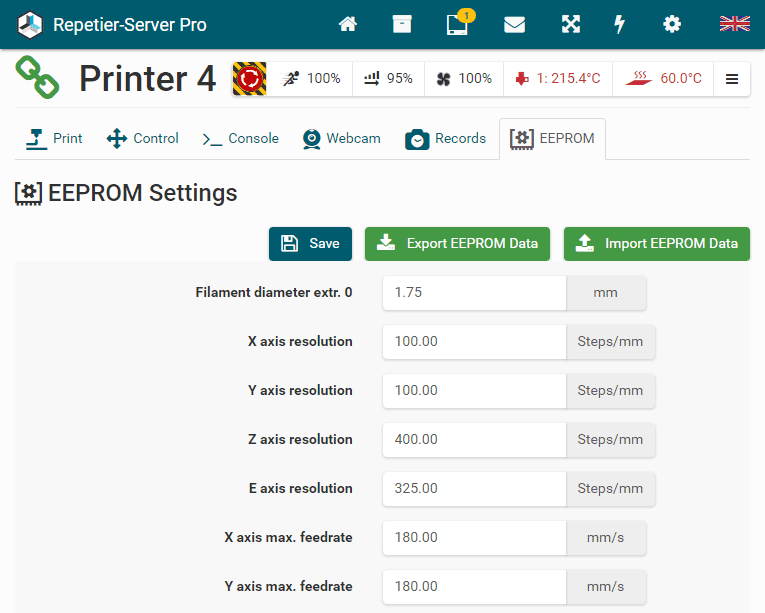 Firmware-Upload
Normally, you can't upload new firmware to your printer while the server is connected to your printer. To make this easier, we've added a firmware uploader that takes care of this. Updating your firmware has never been so easy and straightforward.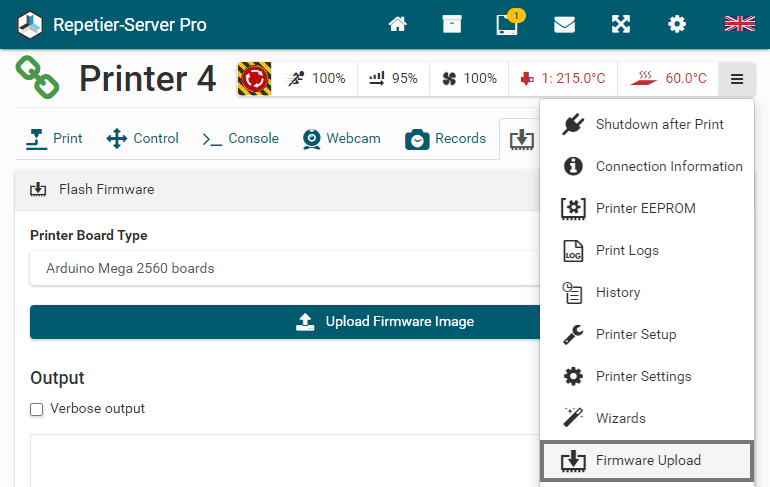 Terminal
If you are running Repetier-Server on Linux or MacOS and have the appropriate configuration rights, you can use a full command terminal within our GUI. This way, no separate SSH connection is required to execute commands on the computer.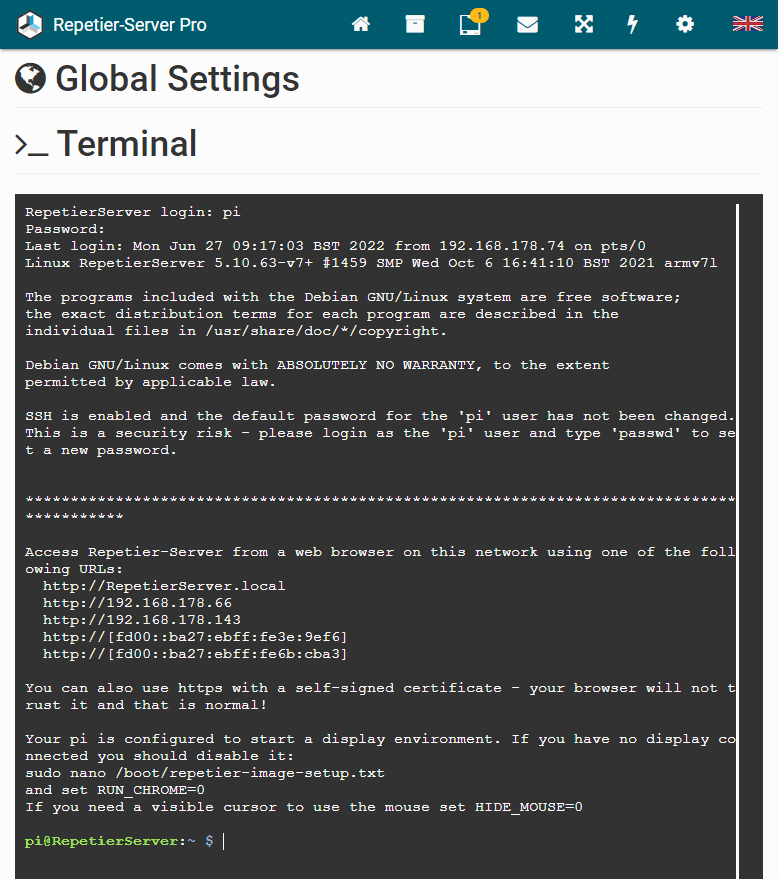 Smart Home
Repetier-Server supports multiple methods to communicate with other programs. 
Software systems that support the integrated IoT messaging standard MQTT can communicate with Repetier-Server. Examples are the smart home systems Home Assistant and ioBroker, but also manufacturing systems with MQTT connection can query information and control processes via this.
In addition, it is possible to make web calls for various events. This can be used to send messages to external websites or to query states. This can be used, for example, to control an IoT device with IFTTT connection such as sockets or lamps.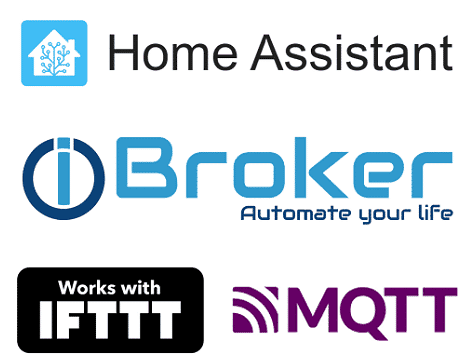 Repetier-Server Monitor
Our free Repetier-Server Monitor is a very useful desktop app for Windows, Linux and Mac, which offers several features.
On the one hand, you can create complete backups of all your Repetier-Server installations or backup individual areas and of course restore them again.
And if you have multiple Repetier-Server Pro installations, you can manage them all together in this program and have an overview of all printers at once.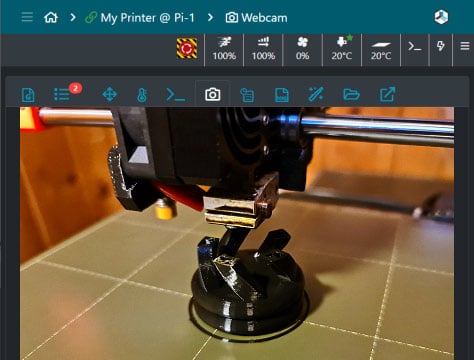 Repetier-Host
Our free Repetier-Host combines different slicers like Slic3r, PrusaSlicer and CuraEngine to achieve best printing results.
You can connect our Repetier-Host with Repetier-Server and get more features and possibilities. So you can send your g-codes directly to the server after slicing, manage and control the printer and start and monitor prints.
Klipper-Support
Not only do we understand the klipper firmware syntax, we can even install the required klipper environment with one click. If you choose our integrated solution you have the following advantages:
Edit the configuration within Repetier-Server.
Start and stop klipper from Repetier-Server.
Compile printer micro controller code.
Download or directly install printer micro controller code.
Automatically measure input shaper parameter with wizard, if a ADXL345 sensor is connected to pi.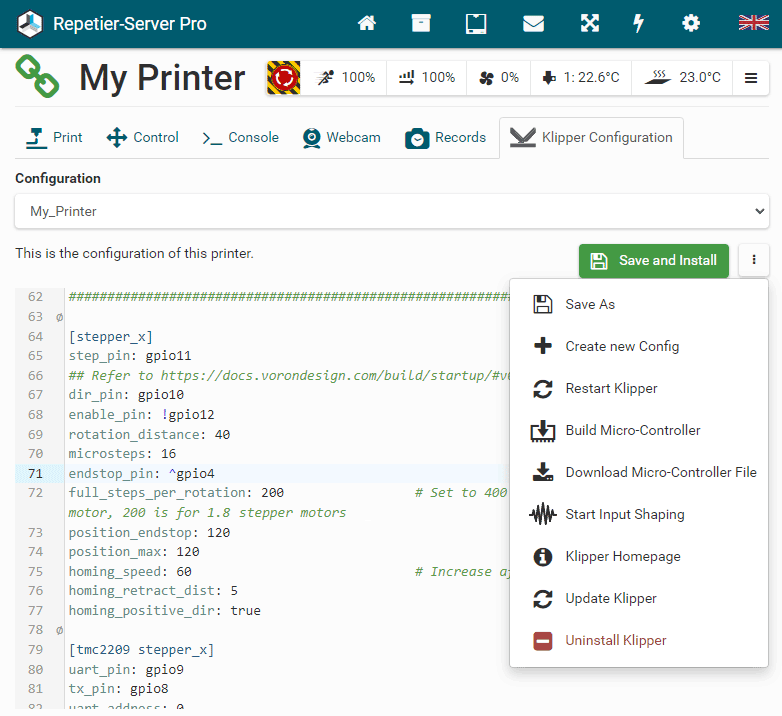 Price Calculations
We analyze your g-codes and show you not only how much filament you need, but also the printing costs.
You can set the parameters for filament cost per kg, printing cost per hour and a handling fee as well as the currency yourself. So you can know for each print what it will cost you.
Commercial 3d printing services can enter their final prices for customers there and thus get the customer's final price directly.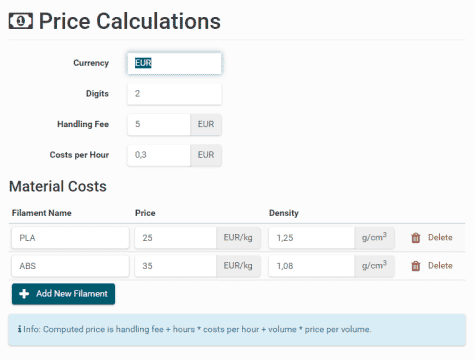 Dark Mode
Not everyone likes a bright design, especially at night the dark design is more comfortable for the eyes. With us, you have the choice and can specify the design or adopt the operating system setting, if the browser and operating system support it.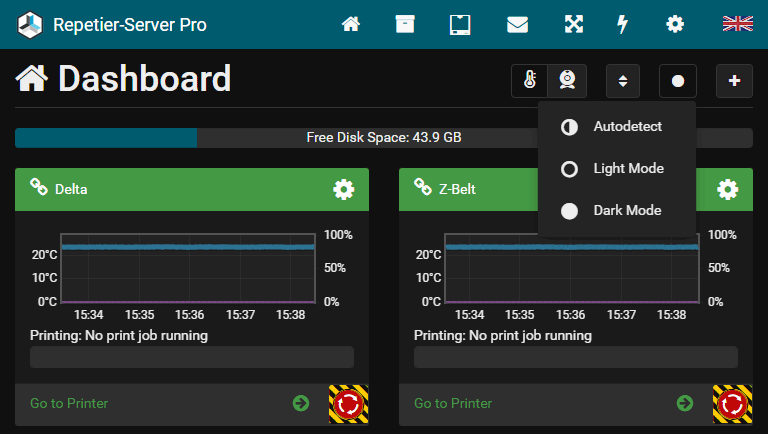 Made in Germany
Since 2011, we have been developing Repetier-Server, Repetier-Server Monitor, Repetier-Host, Repetier-Informer and Repetier-Firmware completely in-house in Germany in order to be able to respond to customer needs as quickly as possible. Also the customer support is completely in Germany.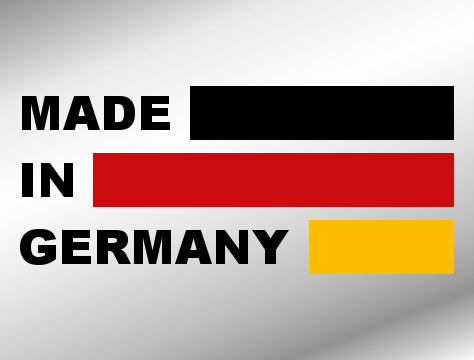 Own Branding
For 3d printer manufacturers, we offer a discounted Pro version with 2 installations (one for the printer and one for a PC to outsource compute-intensive tasks) and a heavily discounted OEM version to ship their own printers with Repetier-Server - even with their own branding.
We recommend that manufacturers just customize the colors, name and logo to their own look and feel, it's quick to do and easy, though much more in-depth modifications are also possible if desired.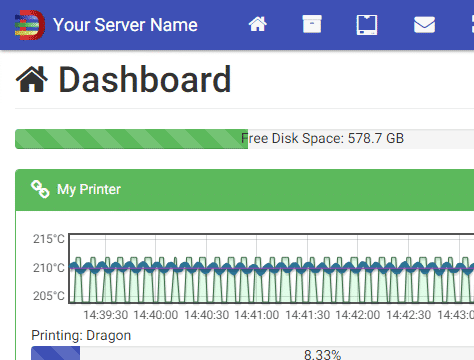 Help us improve Repetier-Server.
Your opinion counts!
Take 3 minutes to complete a short survey so that we can optimize Repetier-Server even better to your needs and receive a 15% discount coupon for Repetier-Server Pro as a thank you.