Push Messages
3D printing is cool, but it always takes some time and nobody wants to spend all the time sitting next to the printer. This is where the Repetier-Informer app (the required app is available for Android and iOS devices) enters the scene. This will give you the desired status reports via fast and free push messages to your smartphone and/or tablet.



Click at top right of the browser window on the gear and choose Global Settings Push Messages to configure your push messages. Here you have to enter an informer group you have created in your app and you can specify for which events messages are sent:
Print finished
Print started
Print paused
Print stopped
Severe error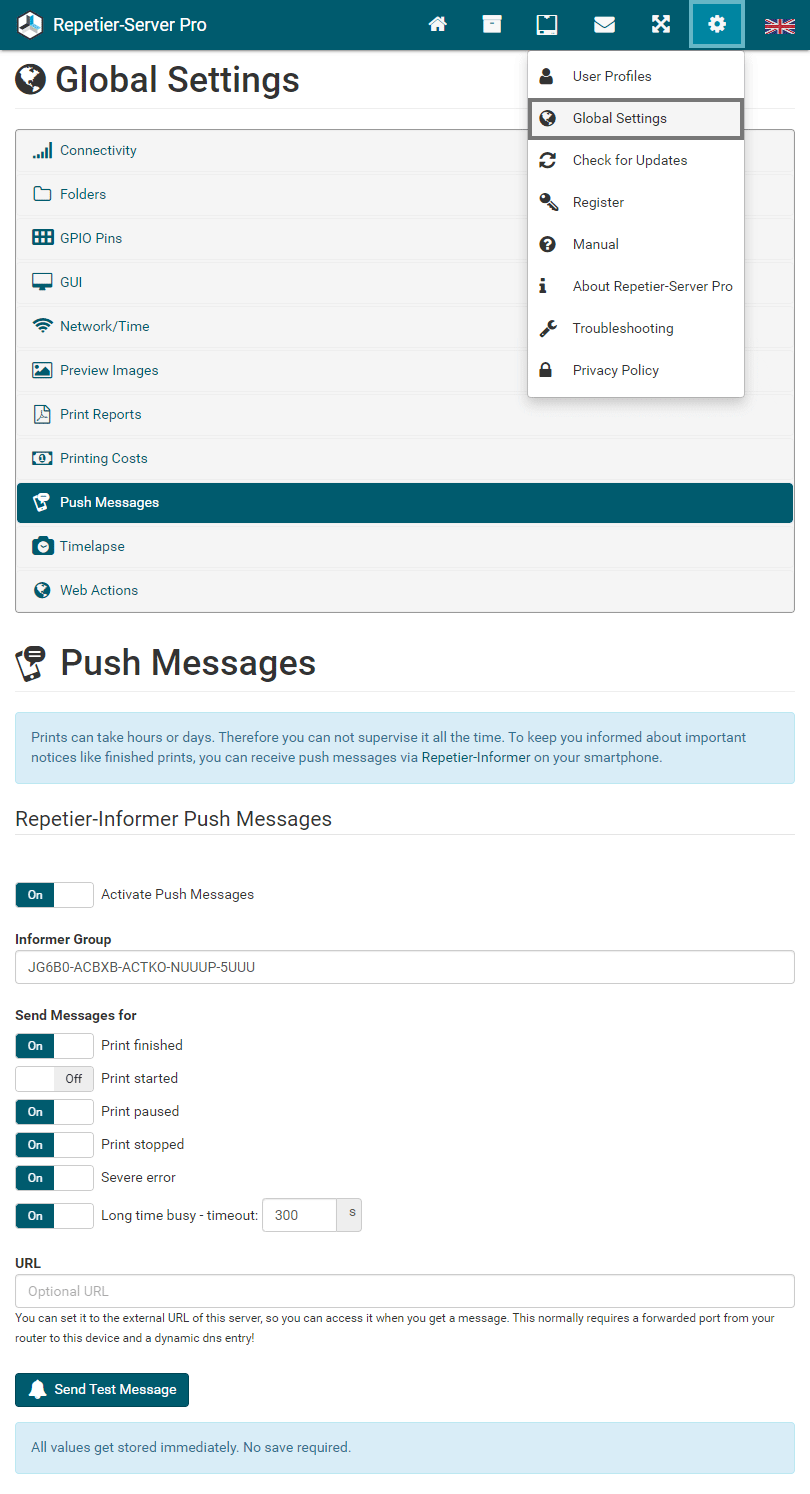 Preview Images
Repetier-Server creates preview images for all uploaded g-codes and STL files, so that you can easily browse through your models and see them. To set the quality and colors, go to and choose Global Settings Preview Images.
Here you can set the material colors for each extruder. The color settings are used for all printers, so here may be more extruder displayed as you have.

To set the color you can enter the rgb values in hexadecimal format, use our color picker or click Select predefined colors and choose one of our color proposals.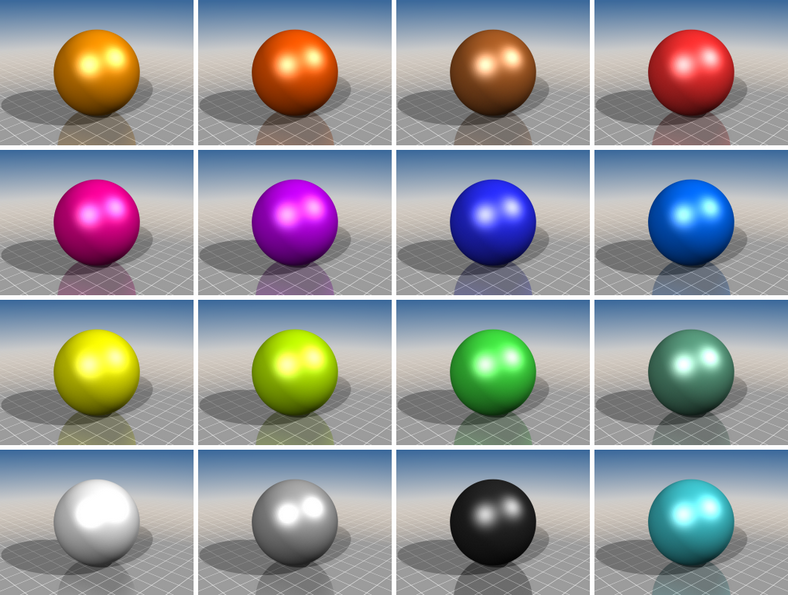 Normally you just have to choose between hard and soft shadows for STL files (G-Codes always have hard shadows). Soft shadows take much more time for rendering. If you select Individual Advanced Settings, you can set all parameters like antialaising quality, shadows, refelctions, colors of bed and horizon, lights, ... manually. Note that some settings can extremely increase the computing time. For all the parameters you will get examples by clicking on .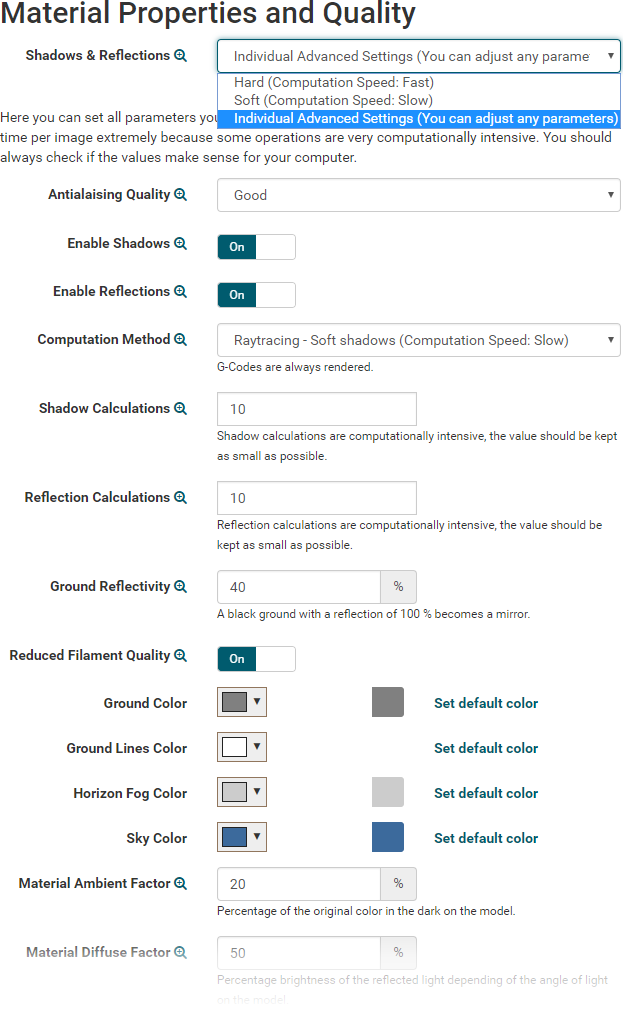 Printing Costs
With Repetier-Server you can calculate in advance what a print will cost. Click at top right of the browser window on the gear and choose Global Settings Printing Costs to configure your price calculation.

Here you can set your currency, a handling fee (for professional offers) and costs per hour (e.g. electricity prices, hourly usage charge and printer wear). Then you can create any number of filament types and for each a price per kg and a weight per cm³.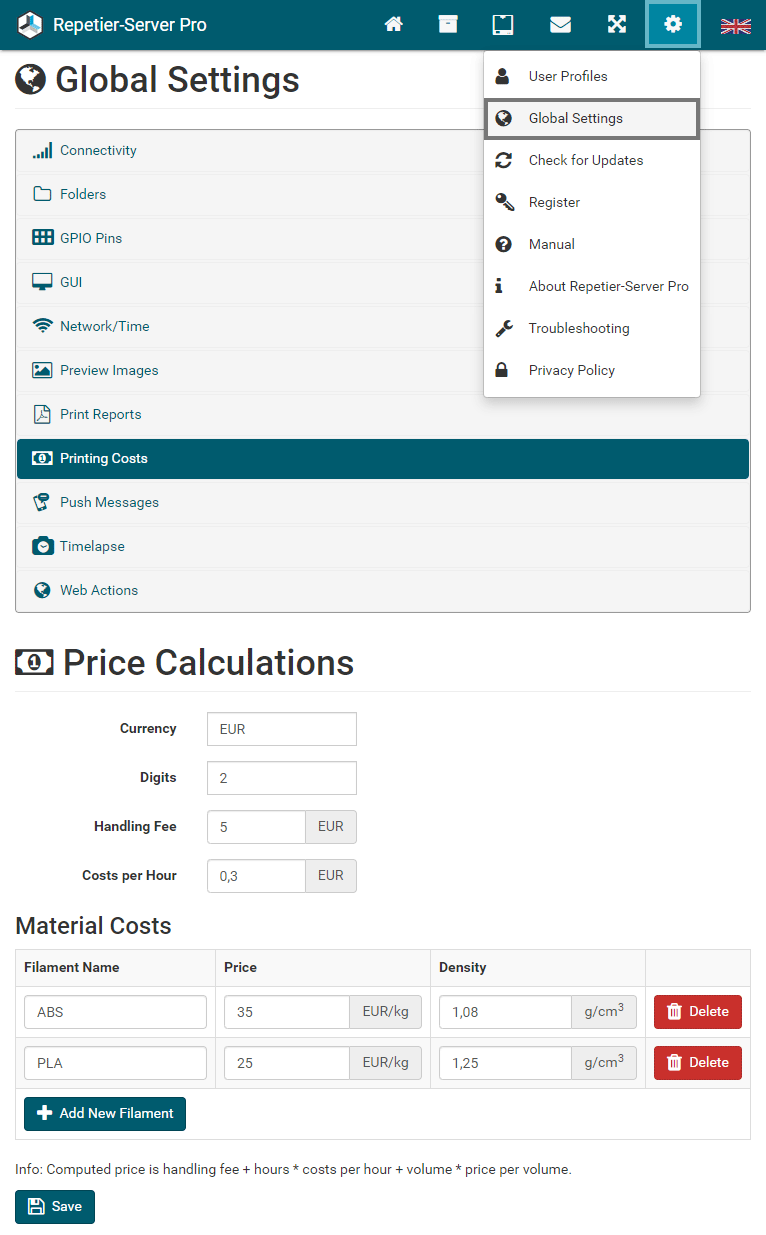 Connectivity
API Key
With the API key in your Global Settings you can get complete access to the server. This is used to allow servers to communicate with each others or to add connectivity with other software without the use of login/password. Keep it secret or change it if you think it got compromised. To change the API Key, klick the button Replace with new API Key.

If you do not want to give complete access to the server, use the API Key from a User at User Profiles. Here the server gets the same rights as the choosen user.



Server Name
Each server installation has an own server name and helps to identity your installation when running multiple instances and when you use the cloud to control all your instances. If you change your server name, referencing servers will automatically rename to the new name. To connect to the cloud, you need the UUID, which must be unique. If you copy an running server image, you might copy the UUID, so you could get two installations with the same id, which will cause troubles when you connect to the cloud. In this case, click New Server UUID before connecting to the cloud.
Alternative Servers
If your server runs on a slow machine, it might be useful to delegate cpu or memory intensive tasks to other Repetier-Server instances on other computers. It is not necessary, that the other instance is configured for any printer. It must be running, that is all that is required. So if you have a pc that runs anyway, you might want to add the pc to the list. If no other server in this list is reachable, the server runs the task locally. You can set if the remote server is used for time intensive computations and if it has access to stored projects.

To add an new Repetier-Server instance, click the button Add, enter a name, the API key of the instance, the IP address and the port and click the button Apply Changes.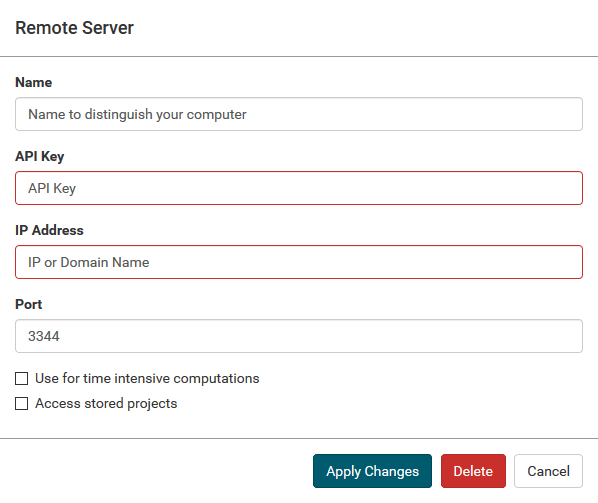 Notice: The server will always try to outsource computations, if there are cloud computers specified. Therefore it is important to set this only to more capable and faster computers. The first accessible computer from the top of the list is used, so that the fastest computer should stand at the top.
Server Domain
If you have upset an external route with domain name and port, you can enter the connection data here to show it for example as QR code on the dashboard. Depending on the NAT roules in your router, the port may differ from the port the server really uses.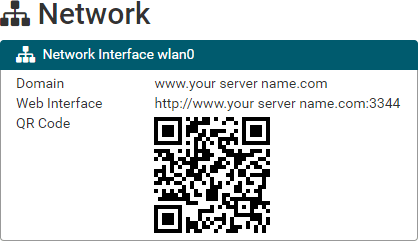 Timelapse
If a webcam is activated in the printer settings, you can specify that images are taken at predetermined intervals. These images can be played via the website like a video. If you want to export it as an mp4 video, you must install FFMPEG. Free download of FFMPEG (version 1.1 or newer) for all operating systems: http://ffmpeg.org/download.html
After installing FFMPEG you have to enter the path (eg C:\ffmpeg\bin\ffmpeg.exe or /usr/bin/ffmpeg), that's all. If a remote server is connected, rendering will be outsourced, if the remote server has also FFMPEG installed.

Notice: Alternatively you can install avcanv instead of FFMPEG. Everything will work the same except repeat first/last frame, which will be replaced with no repetition. The executable must be named avconv to be detected automativally.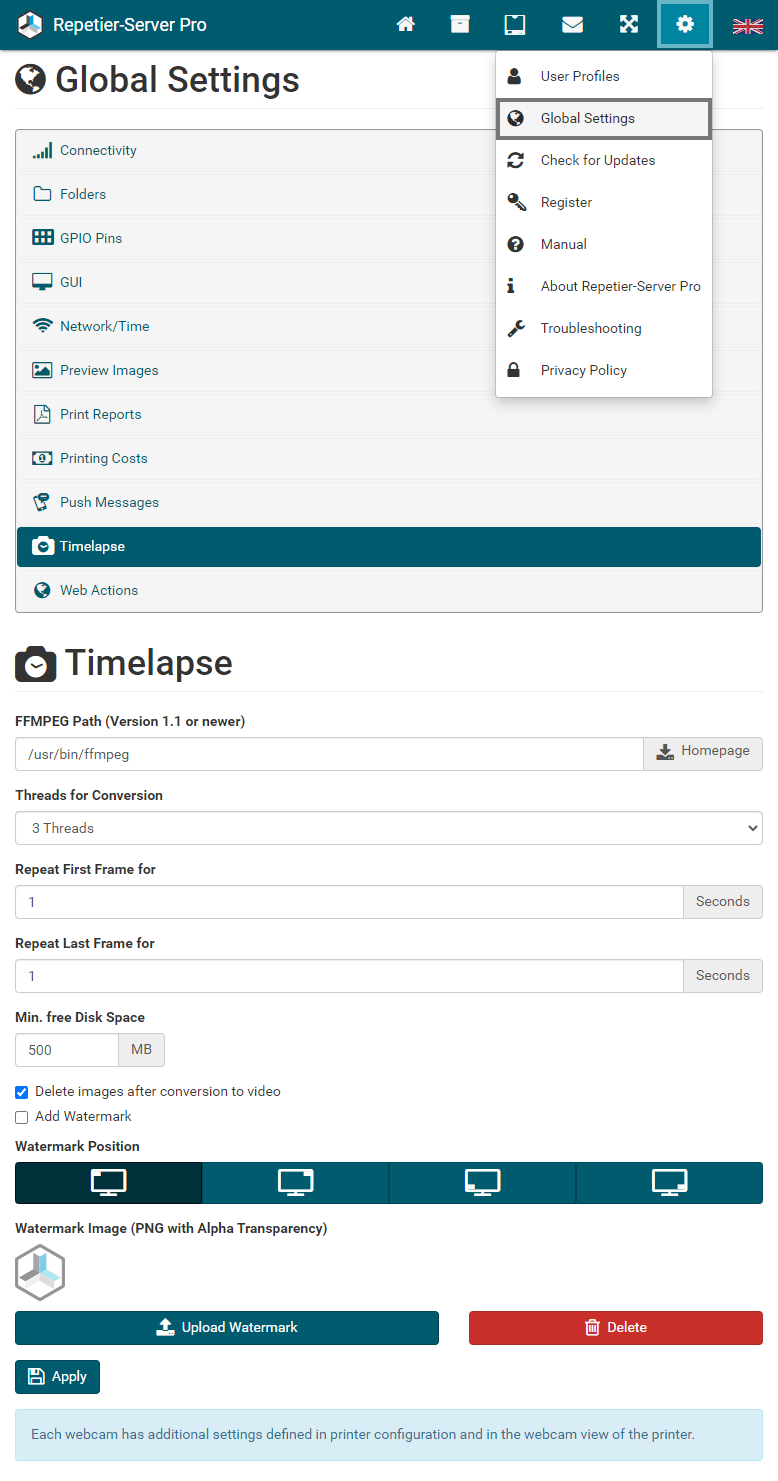 Threads for Conversion: If you have a multi-core processor, you can specify here how many threads will be used simultaneously to render the video.
Repeat First Frame for: Thus the print does not start immediately on the video, the first picture can be repeated for x seconds.
Repeat Last Frame for: Here the last picture can be repeated for x seconds.
Min. free Disk Space: To avoid that hard disk space runs out while the video is created, here you can specify how much disk space must be at least free, so that the video rendering will start.
Delete images after conversion to video: To save a lot of disk space, you can delete the pictures automatically after creating the timelapse video.
Add Watermark: Here you can specify if you want to embed a watermark in the video.
Watermark Position: Here you define, in which corner the watermark appears.
Watermark Image: Here you can upload your own image, which is used as a watermark. The image must be a PNG and may have alpha channel transparency.
Notice: Each webcam has additional settings defined in printer configuration and in the webcam view of the printer.
Folders
Here you can register local folders, which you can use to import G-Code or STL files into the server. Typical reasons are usb sticks or frequently used folders to provide new files. You can enter a folder name for each folder. Click Browse to select the folder and Add new Folder to save the folder.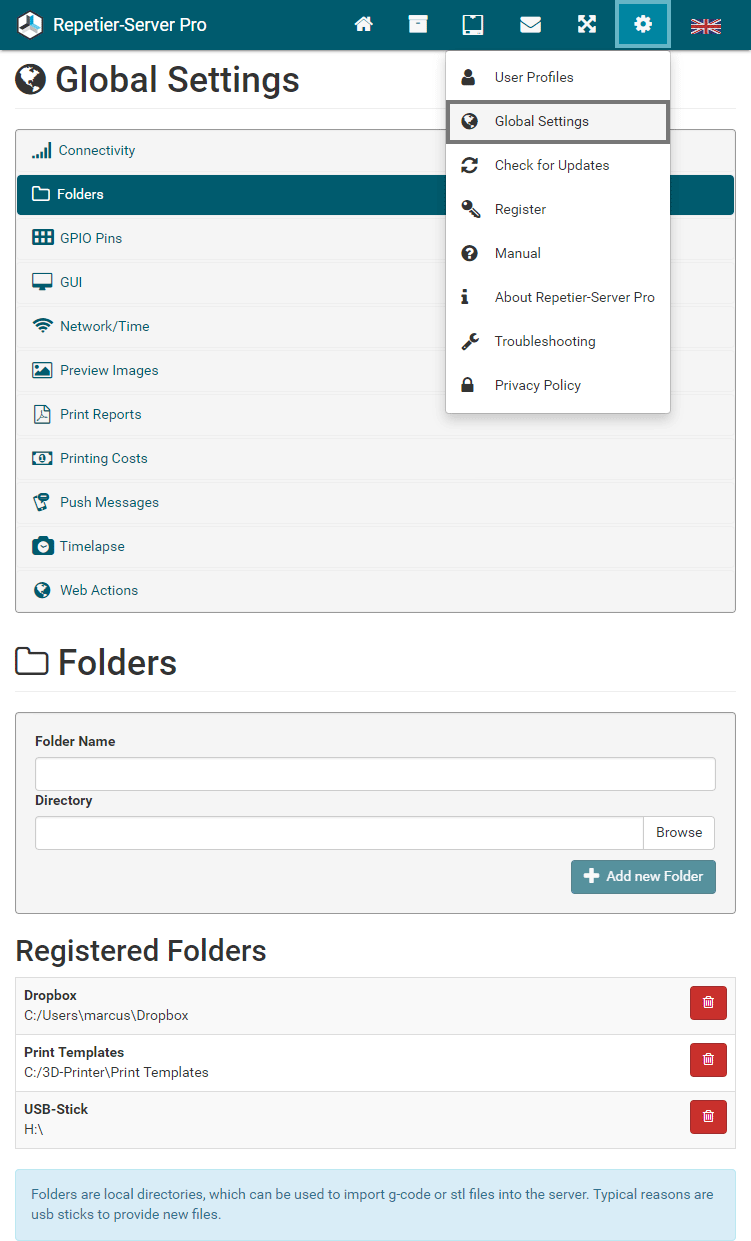 Network/Time
If you use our image for Raspberry Pi, you can configure Network via acces point mode or wired connection. For details click here: https://www.repetier-server.com/download-images/
With such a setup you can configure your Network in Global Settings Network/Time. You can configure your PC to connect to an existing WLAN or to act as an access point. The settings have 4 blocks.
The block Available WLAN Router shows all available WLAN routers. Here you can connect to one of these. Click on the wanted router. If it is encrypted or the password is not stored you will be asked for the passwort.
The block Connection Settings configures some general parameters:
Hostname - The name of your PC. It will appear with this name in your WLAN.
SSID if in AP Mode - When working as access point, it will show this name as route name.
Password - Here you can change your Passwort for access point mode. The default passwort is 12345678.
Channel if in AP Mode - The channel used for transmission. Depending on your country not all channels are allowed.
Region - The country you are in. This determins which channels are available. You need to reboot to activate the changes.
AP Handling - Define when the server should act as an access point.
First you should set the region in Connection Settings. Only with the correct region the adapter will work on the channels allowd in your country. You might also want to change the host name. That is the name that will appear in your routers or can be used as part of the URL, if your OS supports Bonjour/Zeroconf. The URL will be in our case http://repetier-server.local/.
The block Wired Connection allows overriding the default settings querried from the DHCP server. Normally there is no need to change anything here.
The block Time allows to set your time zone. This will be used for several time outputs.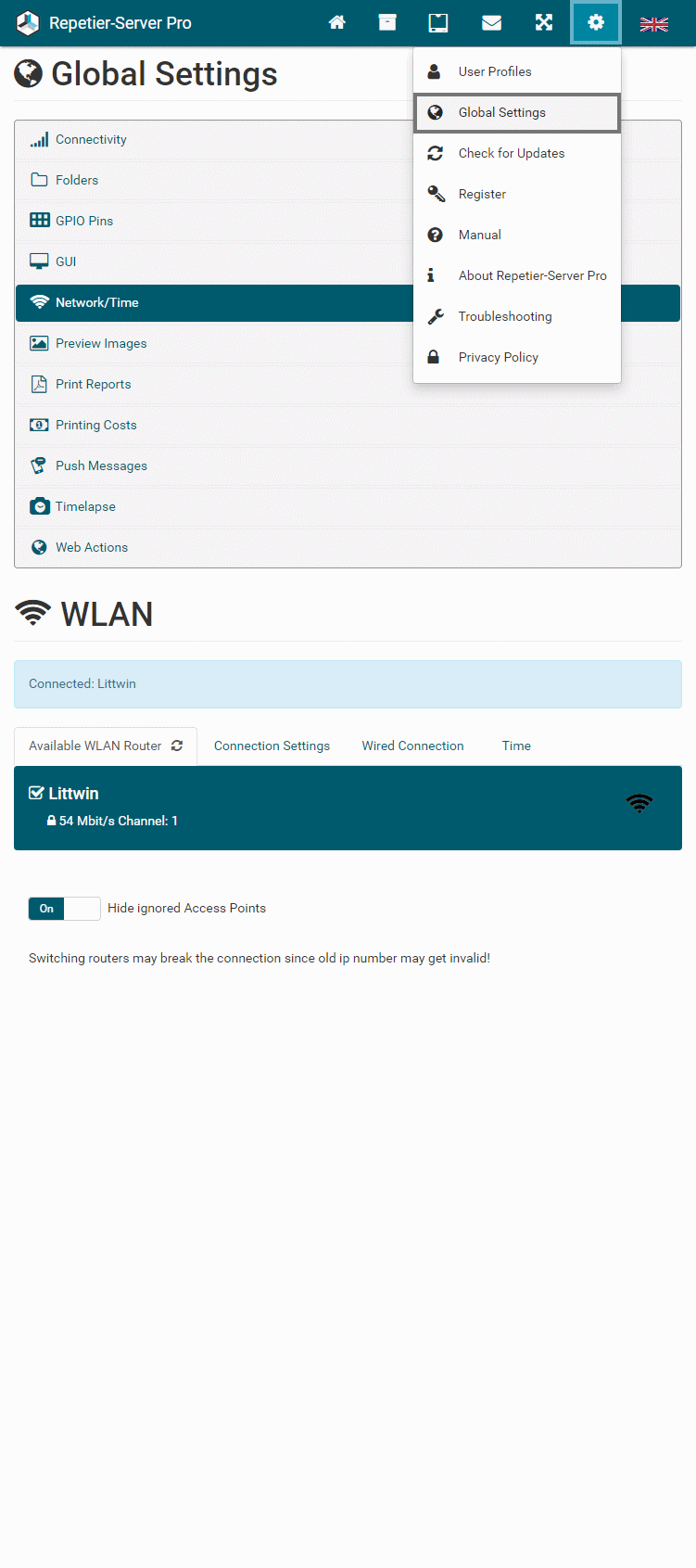 GUI
Emergency Icon
The emergency stop button looks by default like real emergency buttons without having the exactly same function. If your safety officer or you have a problem with this fact, you can choose to use a different icon instead.
Printer Display
If you use our touchscreen interface on your printer, you can set a pin to unlock the display after the screen saver is activated, so that no unauthorized persons have access. You can enter a pin with up to 6 numbers. Then you can lock the printer discplay manually. Without a pin, you can not lock it. To activate the lock automatically when the screen saver startes, select Lock screen when the screen saver is activated. Because the printer display has no users, there is only one pin for all users.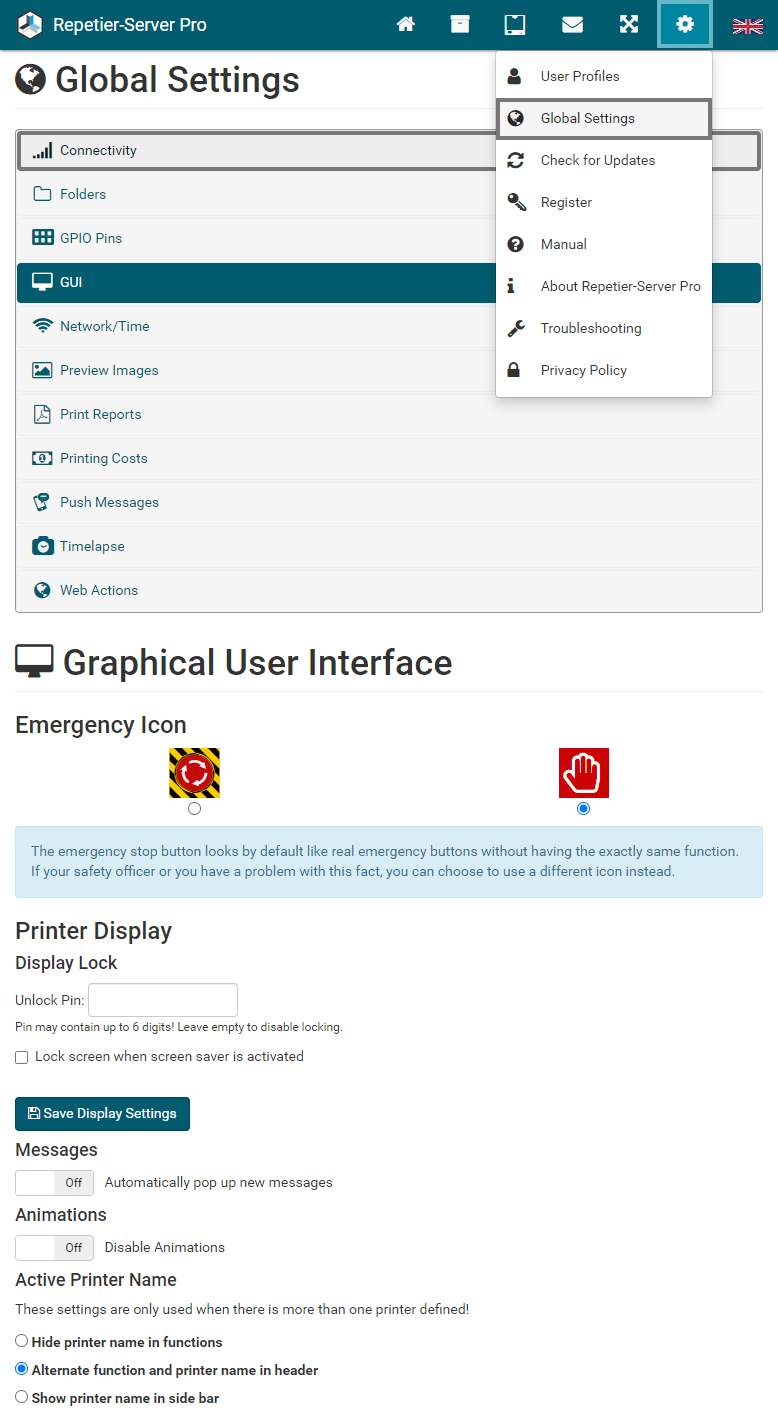 Print Reports
While you can already see in your print history when you printed which file, the reports added to the history offer more details about the prints and are also a great way to document your work in downloadable pdf files eg. if it is a commissioned work and you want to deliver a print report.
The report contains a rendered preview image and if you have a webcam you can add a webcam snapshot of the finished print to the report as well. Due to the embeded images the reports can be up to one MB, so you might want to reduce the number of stored reports or disable them completely. Deletitions will happen on the next report generation. If you select Do not generate print reports., the saved reports will not be deleted.